Tondo: Smart Lighting for Connecting Smart Cities
Tondo creates Smart Lighting that enables cities to connect and manage all of their Smart City managed assets from a "single pane of glass".
Pervasive light poles provide the ideal platform for Tondo's Smart City wireless network to connect and manage critical infrastructure.
Tondo's AI-native Smart City management cloud enables cities to avoid information overload, providing actionable insights for improved results 
Tondo's Smart Lighting creates a standards-based Smart City network that can decrease street and area lighting costs by over 60%, and sensor and device operating costs by up to 80%.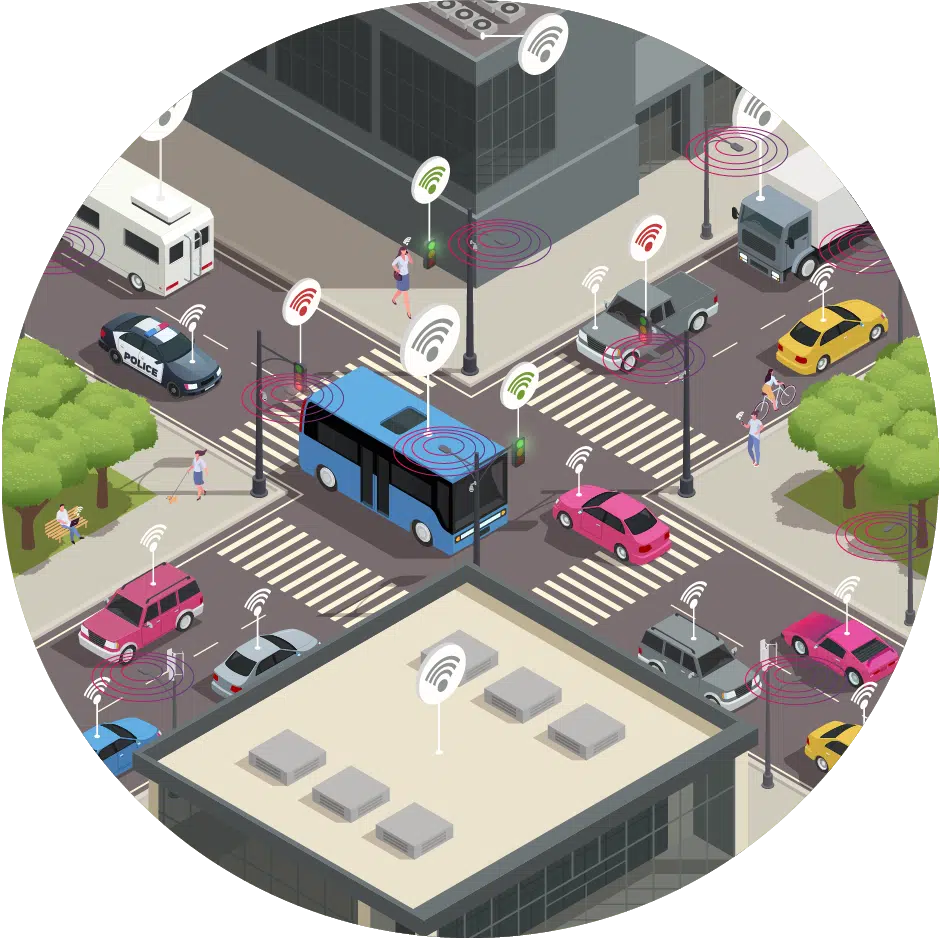 A Tondo Smart Lighting solutions can reduce the energy, operations, and maintenance costs of street lighting by as much as 150% over a simple LED light upgrade.
Lighting poles are everywhere there are people, vehicles, buildings, services, and utilities, and are the perfect platform for the Smart IoT Network
Tondo's Smart Lighting solutions provides the Smart City loT network for connecting to sensors and other devices that support your Smart City vision.
Lighting poles are conveniently electrified to support Smart City communications devices.
Street lights are well-positioned up high for wireless communications to sensors, people, and vehicles.
Smart Lighting: The Key to Your Smart City
Lighting poles are everywhere there are people, vehicles, buildings, services, and utilities

Smart Lighting enables light poles to be electrified 24/7 without wasting energy

Street lights are positioned high up for wireless sensor, device, and cellular communications

Tondo's Smart Lighting creates a city-wide mesh network for sensor and device connectivity

Tondo's Smart City network can reduce the cost of sensor and device solutions by up to 80%
Tondo's Smart Lighting-based network makes your Smart City vision possible.
ADAPTIVE SMART LIGHTING CONTROL
Dusk-to-Dawn lighting control provides light even when it isn't necessary, wasting energy and increasing sky-glow that interferes with human and animal health.
Tondo's Adaptive Smart Lighting delivers standards-compliant lighting levels based on vehicle, cyclist, or pedestrian demand.
This can reduce the operating costs of LED street and area lighting by as much as 70%, while reducing the impact of urbanization on our ecosystems.
THE SMART CITY NETWORK
Smart Cities depend on an array of connected sensors and devices to collect data, automate operations, and support decision processes. 
A Smart Lighting-enabled Smart City network is an essential first-step in enabling a Smart City vision. This enables sensor and device connectivity on a common platform, and can reduce your sensor deployment costs by over 80%.
Migrating from cabinet-controlled lighting to on-luminaire lighting also enables 24×7 electrification of the light pole. This provides a value-creating platform for EV, public WiFi, and other powered services.
RAPID INSTALLATION
Tondo's plug-and-play and automatic configuration securely configures the lighting and network controllers  in a few seconds.
Tondo's plug-and-play and automatic configuration eliminates the need for extensive training for installing contractors, and provides significantly lower project deployment costs.
MANAGE MORE THAN LIGHTING
Tondo's Cloud-IQ Central Management System (CMS) provides an advanced platform for managing all lighting, sensors, and connected devices on the Tondo Smart Network.
Our API support for the TALQ Consortium interoperability specification enables us to authenticate, provision, manage, and control devices from other manufacturers who also support the TALQ specification.
Tondo Cloud-IQ allows you to monitor, configure, and provide secure software updates to connected devices across the network.  
Cloud-IQ provides robust energy usage, sensor data, and device reporting and can integrate easily with existing data warehouse and business analytics tools for roll-up and enterprise analytics.
STATE-OF-THE-ART CYBERSECURITY
Tondo was the first to deliver street and area lighting controllers with hardware-based cryptographic security and Root of Trust capablities.
This makes Tondo controllers resistant to the most invasive cyber attack methods such as side-channel attacks that involve physical access to the device and use of an electronic probe to derive secret keys.
Read more about Smart City cybersecurity in A CIO's Guide to Smart Street Lighting-Enabled Smart City Networks
OPEN STANDARDS INTEROPERABILITY
We designed our hardware and software products for interoperability with current and newly-emerging standards and specifications from ANSI, IEC, IES, DALI, TALQ, and others to help you avoid vendor lock-in to proprietary technologies.
We support common global lighting connectivity and control standards, wireless cellular, sensor, and device connectivity standards.
HIGH VALUE SOLUTIONS
Tondo's Smart Lighting and Smart City network solutions can typically break even in five to six years, and as little as three years, depending on your cost of electricity.
Smart Lighting savings are driven by:
Dimming-enabled design standards
Sensor-enabled adaptive dimming
Metering-enabled electricity rates
Extended lamp lifecycles
Operations and maintenance savings
Reduced CO2 offset credits
Read the details in The Business Case for Smart Street Lighting as the Smart City Network.
RELIABILITY
Your Smart Lighting and Smart City network requires high availability "always-on" operation.
We've taken great care in designing our products to withstand unexpected shock, vibration, electrical interference, and power anomalies.
We offer a range of warranty options up to 10 years and our Cloud-IQ Central Management System can be deployed on our cloud or yours.
A Solution That Works for You
STREETS, ROADWAYS, AND HIGHWAYS
Roadway and highway lighting represents 36% of all outdoor lighting in the U.S.
LED lamp retrofit projects are an easy choice, because they deliver up to 40% in energy savings and GHG footprint reduction. A Tondo Smart Lighting solution can deliver as much as 2.5x of the value you get from a LED retrofit project.
Tondo can provide you with the communications and control infrastructure for Smart City and Smart Enterprise sensors and devices – completely paid for with the energy, GHG, operations & maintenance, and asset lifecycle benefits of Smart Lighting.
PARKING LOTS
Parking lot lighting represents the 2nd largest category of outdoor lighting.
Five percent of the entire United States is covered by parking lots , with as many as 630m non-household indoor and outdoor parking lot spaces in the U.S. 
Tondo's Smart Lighting not only reduces the operating and maintenance costs of lighting –  but also enables real-time control and can reduce the cost of your parking sensor and connected device deployment by up to 80%.
COMMERCIAL OUTDOOR LIGHTING
According to the U.S. Department of Energy, commercial outdoor area lighting represents 64% of all outdoor lighting in the United States, and 6% of global energy consumption. Over half our carbon footprint comes from electricity and 17% of that comes from outdoor lighting.
Lighting energy costs represent approximately 10% of the total operating budget of a commercial building and 31% of the total energy budget.
This means a Tondo Smart Lighting solution can reduce your energy and other operational expenses by as much as 40% and add up to 4% to the net operating income for your organization.
RAILWAY AND PUBLIC TRANSIT LIGHTING
Lighting for airports, railways, and rapid transit systems represent the fourth largest source of outdoor lighting. Balancing safety with sensible cost management is a challenge.
Tondo's Smart Lighting solutions can reduce the payback period on LED retrofit projects by 40% or more. At the same time, Smart Lighting can provide greater control over delivering the appropriate amount of light when it is needed, improving safety and security for all users.
What Can You Connect to Your Tondo Smart Lighting?
COST-EFFECTIVE SENSOR AND DEVICE CONNECTIVITY
Today, most sensors and connected devices such as cameras use proprietary networks that lock you in to a specific vendor solution, or use independent cellular connections that make many sensor projects cost-prohibitive.
Conencting sensors and other devices to Tondo's Smart Lighting-enabled Smart City network can reduce your sensor and connected device operating costs by 80% or more.
Tondo's system brings me to the 21st century. I get remote control of the lighting in the city and energy savings. It also opens up a lot of the possibilities for the future.
Eli Lalou, CIO
Kiryat Yam Municipality